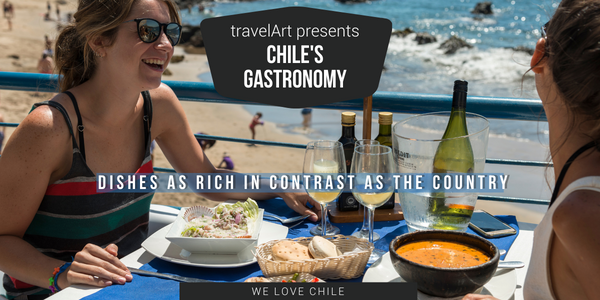 Chile's cuisine is as rich in contrasts as its landscapes, and the country's more than 4000 kilometres of coastline also puts plenty of fresh fish and seafood on the plate, with specialities some of which are only found on the Pacific coast of South America.
Chilean gastronomy is the result of the fusion of three culinary traditions. First, the country's cuisine is based on the indigenous culture of the native people with main ingredients such as corn, potatoes, beans, pumpkin and chilies. Many of the dishes are still corn-based today, such as the corn pie "Pastel del choclo". During the colonial period in the 16th century, the Spanish introduced other products and cooking techniques. A mixed cuisine emerged from the traditions of the indigenous people and the Spanish conquerors – "cocina mestiza". Later, in the 19th century, European immigrants, especially from France, added more culinary influences.
There are some typical dishes that visitors must try during their trip to discover the heart and soul of Chilean culture.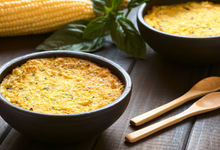 Pastel del choclo
Pastel del choclo is a delicious seasonal dish that originated in the rural areas of Chile over 200 years ago. It is a popular home-cooked meal best enjoyed when the summer corn harvest begins. The corn pie is basically ground beef fried with onions and topped with corn puree. Traditionally, it is sprinkled with a little sugar before baking, or sugar can be added to taste after serving.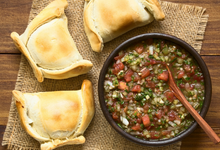 Empanada de Pino
Empanada de Pino is a filled dumpling. Empanadas can be filled with vegetables or cheese. The popular empanadas de pino are filled with the same mixture of ground beef and onions as used to prepare the pastel del choclo. In Chilean restaurants, pebre is often served with bread and butter, but sometimes also as a condiment with empanadas (as in the photo). This spicy condiment is made with coriander, chopped onions, olive oil, garlic, chopped tomatoes and diced green chile peppers.
Humita
Humita is one of the oldest Chilean dishes. Humita (from Quechua: humint'a) is a corn-based dish and dates back to pre-Columbian times. It basically consists of a lightly spiced corn porridge wrapped in the leaves of a corn cob and then boiled or grilled.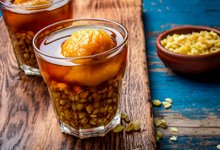 Mote con huesillo
Mote con huesillo is a Chilean dessert and also a kind of refreshing drink, as it is often served ice cold on hot days. It is one of the most traditional desserts of Chilean gastronomy and is made from dried peaches (huesillos) and cooked wheat corn (mote).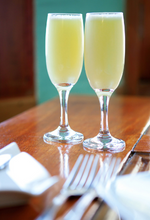 A glass of excellent Chilean wine should not be missed when enjoying typical local dishes. It is also popular to serve a glass of Pisco Sour as an aperitif. Pisco is a brandy and national drink of Chile and is enjoyed together with lime juice as a refreshing cocktail.

PISCO SOUR RECIPE – Mix yourself the taste of Chile