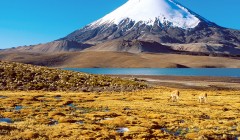 The remote Altiplano (Highland) of northern Chile, bordered by Peru and Bolivia, is a region of snow-covered volcanoes and lonely desert landscapes, filled with bizarre rock and sand formations. This high plateau, formed by the erosion of the Andes over millions of years, is an extremely arid desert or near-desert environment. Near the coast, where the Pacific's cold Humboldt Current typically generates a morning fog, a relative abundance of plant life exists, but the fog rarely penetrates inland. Nonetheless, a surprising variety of wildlife thrives throughout this inhospitable area, including alpacas, llamas, guanacos, viscachas (a type of rodent), armadillos, flamingos, ducks and many other species.
The Altiplano, inhabited for at least fifteen millennia by the Aymara people and their ancestors, was under the control of the Incas before the arrival of the Europeans. Later years brought copper mining; and during the nitrate boom of the late 18th and early 19th Century, the region supplied fertilizer to the farmlands of the world, bestowing great wealth on a few lucky magnates, and creating an economic boom for Chile.
Ancient geoglyphs, carved into hillsides as caravan route-markers, attest to the thousands of years of pre-Colombian habitation, as do Inca and pre-Inca ruins, well-preserved in the bone-dry climate. Signs of the Altiplano's more recent inhabitants can be seen in its abandoned copper mines and nitrate-boom ghost towns, the latter hastily deserted when the invention of synthetic ammonia led to the collapse of the nitrate trade in the 1920's. The ghost towns have been designated national monuments by Chile's government to commemorate this important era in the country's history.
Highlights
Arica, on the coast, is the northernmost city in Chile, and boasts an inhabited history stretching back to at least 8000 BC due to the local sources of fresh water. In 1545, the Spanish expanded Arica into a port to serve as an export conduit for their great Bolivian silver mines. Following colonial independence, the city belonged to Peru; it was largely rebuilt following a devastating 1868 earthquake, with its new Cathedral of San Marcos designed by Gustave Eiffel and constructed with steel prefabricated in Paris.
Arica became a part of Chile in 1883, and today, with 185,000 inhabitants, it is known as "the City of Eternal Spring" for its mild climate. The water temperatures are pleasant for swimming and a long string of beaches is located in and around the city. Arica's symbol is the "Morro", a 130-metre-high sandstone outcrop overlooking the city and ocean; from its observation deck visitors can admire the nearby Lluta valley and a long stretch of coastline.
Fascinating Lauca National Park, a 2.5-hour drive inland from Arica, was established by the Chilean government in 1970 and was designated a UNESCO biosphere reserve in 1981. It hosts a diversity of wildlife, including guanacos, vicuñas, alpacas, pumas, viscachas, flamingos, and over a hundred other bird species. The park's 13,000 hectares encompass high moors, lakes, archaeological sites, and snow-capped volcanoes, some soaring over 6,000m. Lake Chungará, at 4,500m, is one of the highest bodies of water on Earth. Also in the park is the village of Parinacota, whose small houses are picturesquely gathered around a modest 17th-Century adobe church. The tiny village comes alive during local religious holidays and in February for the Altiplano Carnival.
Visitors to the Altiplano should be prepared for extreme variances in daily temperature (typically rising to 20°C during the day and falling to -10°C at night), as well as extreme elevation, which averages over 3000 metres (nearly 10,000 feet).
Iquique, in the language of its indigenous inhabitants, means "Place of Rest". The city, located 200 km south of Arica, lies on a triangular spit of land extending out into the Pacific, and has about 170,000 residents.For most of its early history, Iquique was a poor village, and is described as such by Charles Darwin, who visited in 1835. However, all this changed in the late 19th Century when the nitrates of the surrounding desert began to be mined and exported to Europe with guano from the coast. Very quickly, the village of Iquique became a flourishing harbour with a small, wealthy upper class of "nitrate barons", whose wealth allowed for luxurious mansions and magnificent public buildings – in contrast to the large working class who lived in near-poverty. In the 1920's, the nitrate trade came to an abrupt close, bringing an extended downturn to the city; in 1975, however, it was given Free Trade Zone status, which helped it to recover. Today, the city centre's beautiful nitrate-era buildings are Iquique's pride, and are well worth a visit. Other attractions include Cerro Dragón (Dragon Mountain), a giant sand dune, and, of course, the area's beaches, perfect for relaxing or surfing.
The ghost towns of Santa Laura and Humberstone bear witness to the heady days of the nitrate boom. Both founded in 1872, when the area was still part of Peru, during their heyday Santa Laura was home to more than 400 inhabitants and Humberstone to 3,500. After the collapse of the boom, the two desert mining towns were abandoned, although they were not officially closed until 1960/61. In 1970, Santa Laura and Humberstone were designated national monuments, and in 2005 they were given UNESCO World Heritage status.