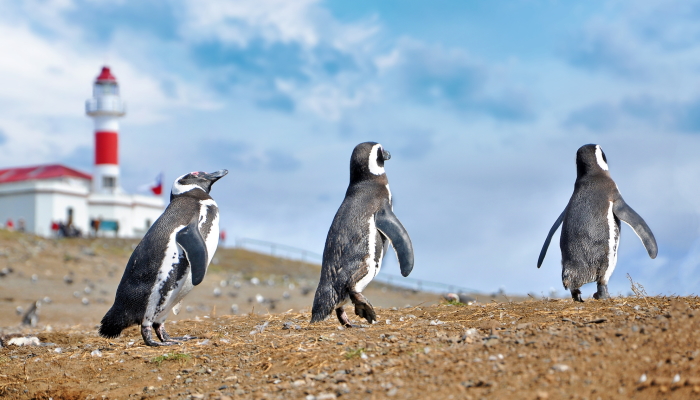 START OF THE VISITING SEASON OF CHILE'S LARGEST PENGUIN COLONY
A tour to Magdalena Island, located in the middle of the Strait of Magellan, is a popular destination from Punta Arenas. It is located only 35 kilometres northeast of the city and can be visited by tourist boats during the summer season between October and March.
The island is part of the Natural Monument "Los Pingüinos"and is one of the best places for penguin watching in Chile, as it is home to the largest penguin colonies in Patagonia, including an estimated 60,000 breeding pairs of the Magellanic penguin.
If you want to be surrounded by cute penguins all around you during a walk, a trip to Magdalena Island should not be missed.
After about 30 minutes up to 2 hours on the boat, depending on departure point, you will go ashore on the island, where you will walk along a path to the famous lighthouse, side by side with numerous penguins. By the way, the boat trip along the Strait of Magellan is the same one once taken by Charles Darwin.
An excursion to Magdalena Island, which is uninhabited by humans, is not only a unique opportunity to observe penguins in their natural habitat, you may also encounter dolphins, cormorants, sea lions and other wildlife along the way. This short video gives a little insight into the penguin colony on the island.
For more information on excursions to Isla Magdalena, please contact
your travelArt representative or email info@travelart.com.