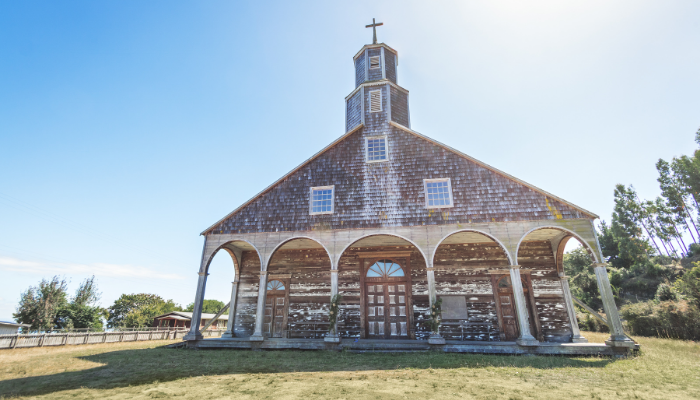 Besides the famous stilt houses and the unique gastronomy, Chiloé is also known for its more than 150 churches made of wood. Most of these were built in the 18th and 19th centuries and combine European and native architectural traditions. The exterior walls of the churches are covered with ornately coloured wooden shingles, while the interiors are sometimes painted and decorated in many colors. This unique architecture gives the island a very special charm.
These special wooden churches can be found everywhere on the main island and on the smaller islands belonging to the Chiloé archipelago, 16 of which have been declared World Heritage Sites by UNESCO. There are nine of these churches on the east coast of Isla Grande de Chiloé, three more in Lemuy, two in Quinchao, one in Caguach and one in Chelín.
The churches were built near the coast using locally cut cypress and larch wood. They each consist of three naves and a porch with five arches. Not a single metal nail was used in the construction of the churches. Instead, the rivets were made of wood. The best-known and most easily accessible wooden churches are in the island's capital Castro, in Chonchi further south, and in Dalcahue and Rilán.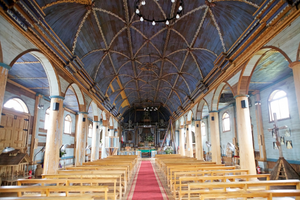 The oldest remaining churches date from the 18th century, the newer ones from the early 20th century.
The Iglesia Santa María de Loreto de Achao was built by the Jesuits in 1740 and is one of the oldest wooden churches in all Chile.
For more information on visiting the wooden churches on Chiloé
please send an e-mail to info@travelart.com.