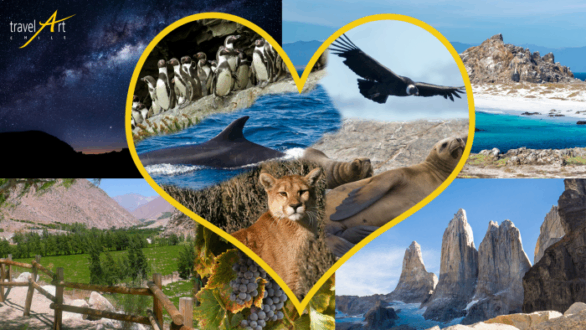 For a varied travel with breathtaking landscapes the contrasting country Chile is the first choice.
travelArt offers a new unique tour, which should not be missing on a holiday bucket-list.
Santiago, Elqui Valley, Isla Damas, the former copper mining town and UNESCO World Heritage Site Sewell, Torres del Paine National Park are only some of the highlights.
Experience the clearest starry sky of the world on an astronomical tour, watch cute penguins, observe an imposing condor in the sky and follow the tracks of the pumas in Patagonia. This trip will take you from the north to the south of the country and a visit to one of Chile's outstanding wineries is also not to be missed.
Our 12-day 'Heartbeat of Chile' tour is priced from USD 4.861,- per person (double room) including internal transport, accommodation, expert guide and some meals. Excludes international and domestic flights.
For more details on this tour, mail to info@travelart.com.