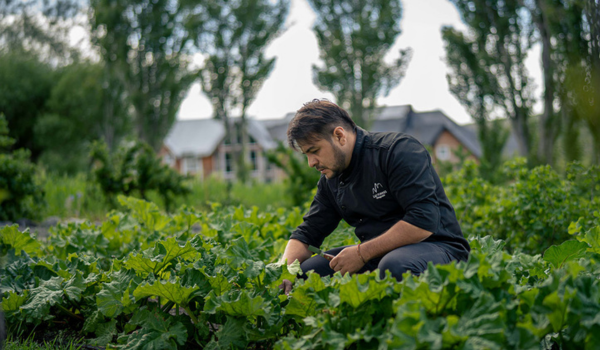 Joaquín Pitta, chef at Hotel Las Torres in Patagonia, talks about sustainable cuisine. Pitta's eco-friendly philosophy ranges from organic waste management to the use of local ingredients in his cuisine; his menu reflects Patagonia's cultural identity and biodiversity.
"We become mindful." These are the words Joaquín Pitta uses to describe his avant-garde approach to cuisine, understanding that cooking is not limited to the sensory impressions it offers, but also how to adapt a gastronomic line that is greener and more environmentally friendly.
"We have the privilege of having an organic, bio-intensive, and regenerative garden, allowing us to produce our food each season. We also have livestock raised with the tradition and roots of Patagonia. All of this gives our kitchen products of character and identity", Pitta affirms
Located amidst nature's beauty, Hotel Las Torres is an oasis of tranquillity. With its breathtaking views and comfortable amenities, it promises an unforgettable stay for every guest.
For more information about Hotel Las Torres, please contact your travelArt representative or email info@travelart.com.