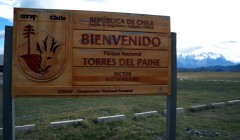 There has been a major landslide on Torres del Paine National Park's southern access road, which leads from Puerto Natales directly to the park's Serrano Sector and the Rio Serrano. Although the debris has been cleared away, an investigation into the causes of the landslide – not the first along this route – revealed other areas of significant roadside instability.
For safety reasons, local authorities have decided to invest in a long-term solution to the problem by blasting out some of the overhangs and bracing others. Afterward, the road will be repaved, which can be accomplished only during the summer, due to Patagonia's harsh climate.
Therefore, the southern access road to Torres del Paine National Park will remain closed through the end of January, 2014. Guests can enter the Park via the traditional northern access road with entrances at Laguna Amarga and Lago Sarmiento. Visitors heading to the Serrano Sector can, of course, do so via the roads inside the park.
If you have any questions about how this road closure might affect your clients' travel plans, please don't hesitate to contact us.