It took twenty years to build the Carretera Austral, which passes through forests and coastal regions, over rivers and lakes, through rocky terrain and along fjords and beaches. Completed in 1996, the highway road begins in the lake district and winds its way across 1,247 kilometres to the extreme south of Chile, providing access to previously inaccessible regions. Visiting this area is like a journey to the past. Horses and oxcarts are still common means of transportation for locals.
If you are looking for adventure and relaxation far away from the booming tourism scene, you will find what you seek on the Carretera Austral in a pristine wilderness. This road is unique in the world and offers the opportunity to enjoy the beauty of Chile's natural landscapes. Here you can see a video about the Carretera Austral.
The southern Carretera Austral is located in the Aysén region. It starts in Coyhaique and ends after about 565 kilometres in the small town of Villa O'Higgins, which is known for its lake and glacier of the same name. The route is characterized by contrasting landscapes and passes the imposing Andes, numerous lakes with crystal-clear water, vast steppes, rapid rivers and ice fields. There are several nature reserves and national parks in this region, such as the Parque Patagonia or the Cerro Castillo National Park.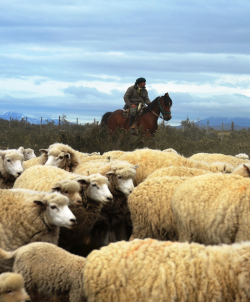 The Aysén region of Patagonia not only offers beautiful landscapes and a rich variety of wildlife, but also lively Patagonian traditions with folkloric festivals, handicrafts such as pottery and basketry and the typical "Asado de Cordero al palo" (grilled lamb).
In addition to numerous opportunities for outdoor activities such as trekking, mountain climbing, hiking, fishing, horseback riding and much more, a special highlight is a boat trip to the Marble Chapels "Capillas de mármol". These are limestone formations which, together with the azure waters of Lake General Carrera, form an incomparable play of colours.