Did you know that the third largest ice reserve in the world, after Antarctica and Greenland, is located in Chile? 20,000 km of ice, of which 4,200 km correspond to the Northern Ice Fields and are entirely in the Aysén region. Its imposing glaciers include the Exploradores, where you can hike on the ice, and the famous San Rafael, which forms the lagoon of the same name.
Puerto Chacabuco is one of the starting points to this natural wonder. There you can take a catamaran that will take you through the fjords and channels of the Laguna San Rafael National Park. It is a unique experience to see the glacier wall from the boat and marvel at the play of colours of the eternal ice.
Another option is a cruise from/to Puerto Montt, which heads for fjords, small villages, private thermal pools and the San Rafael lagoon during a 6-day/5-night cruise.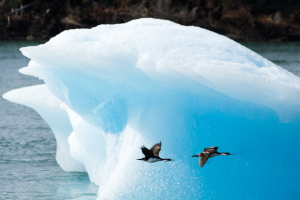 The arch-shaped lagoon was formed by the retreat of the San Rafael Glacier in the Northern Patagonian Ice Field.
San Rafael National Park is the largest park in the Aysén region, covering 1,742,000 hectares, and it encompasses the entire Northern Patagonian Ice Fields (Campos de Hielo Norte), where countless rivers and lakes are born.
For more information on excursions to the San Rafael Lagoon, please contact your travelArt representative or email info@travelart.com.