Various companies offering tourist services have obtained the "Confianza Turística" certificate through Sernatur, which guarantees compliance with health protocols in order to operate in the middle of the coronavirus pandemic.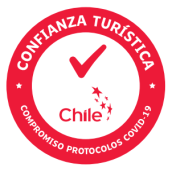 Hotels, campsites and touristic services in Chile have obtained this so-called "sello Covid" certification, thus committing themselves to responsible and safe tourism.We are pleased to inform you that travelArt has also received this stamp.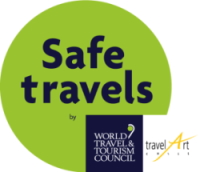 In addition, we have also received the "Safe travels" certificate from the World Travel and Tourism Council (WTTC).
This stamp stands for compliance with global protocols, so that safe travel can be resumed as soon as restrictions are lifted. It is the first global health and safety stamp for travel and tourism specifically developed for COVID-19.
This will enable travelers and travel agencies to identify companies around the world that have implemented health and safety protocols and comply with the WTTC protocols for safe travel.

Check here travelArt`s safe travel protocol