Tour
Included Services
Gear
Notes
Video
Day 1: Arrival in Punta Arenas
Upon your arrival at Punta Arenas you will be welcomed at the airport and transferred to Hotel Rey Don Felipe. In the afternoon, you will meet your expedition mates and receive instructions concerning the guidelines that should be followed in Antarctica as well as the procedures for entering and exiting the Zodiac boat. Later, you will enjoy a welcome dinner at the José Nogueira Hotel, a French-style mansion that is over one hundred years old.
Day 2: Flight to Antarctica Your Antarctic adventure will begin with a 2-hour flight from Punta Arenas to King George Island (South Shetland Islands). After getting off the plane, you will visit the Chilean Frei Base and the Russian Bellingshausen Base. Later the group will gather at the beach on Fildes Bay for embarkation by Zodiac boats on board our expedition vessel.
Day 3-6: Unforgettable days on the White Continent While cruising between the South Shetland Islands and the western coast of the Antarctic Peninsula, sailing along ice-filled fjords and between spectacular icebergs, you will enjoy the company of sea birds, penguins, seals and whales. Your journey southwards will include visits to some of the most magnificent spots on the White Continent, such as: Livingston Island, Port Lockroy, Petermann Island, Paradise Bay, Cuverville and Deception Islands amongst others. The destination of the cruise will be the crossing of the Lemaire Channel and latitude 65° South. The adventure will include many activities, such as several daily landings, cruises in Zodiac boats and lectures onboard.
Day 7: Return flight to Punta Arenas Return to King George Island where you will disembark at the Chilean Frei Base and board your flight back to Punta Arenas. At the airport in Punta Arenas you either take a connecting flight to your next destination or a transfer to the city center where you can spend an additional night.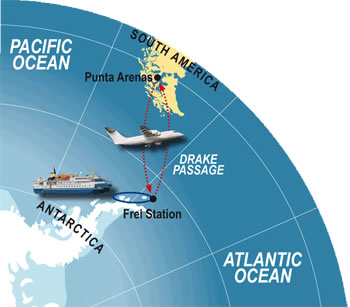 Full board. The cruise includes many activities, such as several daily landings, cruises in Zodiac boats and lectures onboard during the days 3-6.
Warm clothing and rain gear is essential, as well as sunscreen. Life wests, special boots and pants for the antarktis are provided.
This itinerary is subject to change due to weather conditions in the Antarctic region, and flexibility is an essential component of any expedition with Antarctica XXI. Programs of 8 and 5-days are also available.