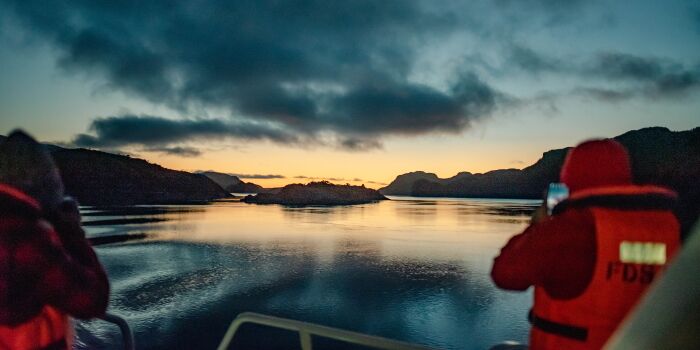 This fascinating catamaran trip begins at the Puerto Natales dock and immerses you in the glacier world of Patagonia.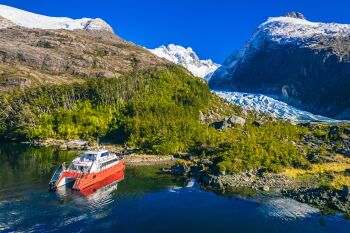 You will cross the waters of the Gulf of Almirante Montt, passing the imposing cliffs of the Cordillera Riesco. After about 3 hours, you can see in distance the ice-covered stratovolcano Monte Burney (1,520 masl), which is located about 90 kilometers from Puerto Natales.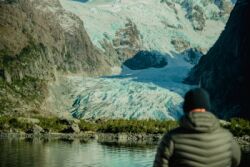 Las Montañas fjord at the foot of the Sarmiento Mountains is the access to the 5 glaciers Zamudio, Bernal, Herman, Alsina and Paredes. The environment of these ice giants is mainly characterized by moraines, rocks, evergreen forests and a multitude of snow and ice-covered peaks.
The first stop will be in front of the Zamudio glacier, an impressive colossus ice that can be seen from the boat.

The next highlight of this tour is the Bernal Glacier, which has reached its last glaciological stage as its ice no longer reaches the sea. It lies on rocks and on a lagoon created by its melting ice.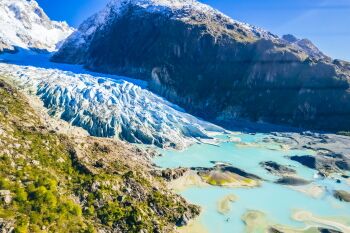 Continuing into the interior of the fjord and after almost 5 hours, the imposing summits of Cerro Trono and Cerro Dama Blanca rise with an average height of 1,900 masl. Between these peaks is the Herman Glacier, whose melting and retreat created a small adjacent fjord of the same name.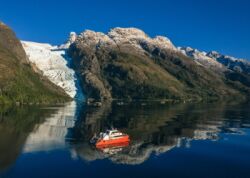 About 25 minutes after passing the Herman Glacier, we reach the front of the Alsina Glacier, an imposing ice massif.
The return journey to Puerto Natales follows the same route and allows you to see the panoramas from a different perspective due to the changing natural light.

This catamaran ride is ideal for anyone who wants to discover some of the most impressive glaciers in Patagonia. It is an unforgettable trip where you can not only be able to marvel at the landscapes but also take lasting souvenir photos.

For more information about this tour or other catamaran cruises in Chile, please email info@travelart.com.