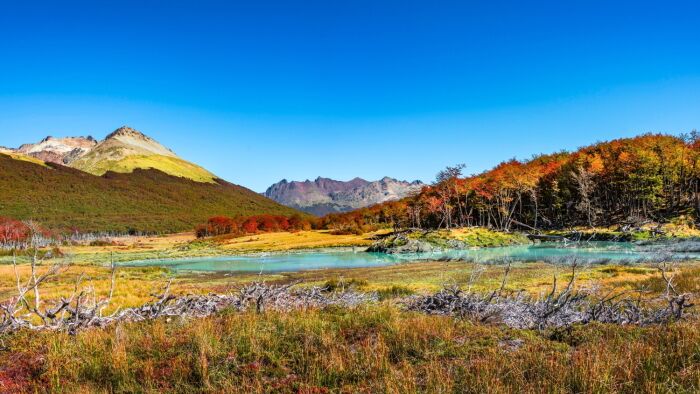 Karukinka Park is like a paradise on earth and ideal for ecotourism at the end of the world.
300,000 hectares of sub-Antarctic forests, wetlands, steppes, coastal landscapes, snow-capped mountains, lakes and rivers full of life make up this park in the Chilean province of Tierra del Fuego in Patagonia.
The park offers many recreational opportunities where you can hike, kayak, fish or cycle and at the same time enjoy being surrounded by pure nature.
Karukinka is the largest protected area on Tierra del Fuego and has been managed since 2004 by WCS Chile, an international scientific organisation with almost 125 years of experience in conserving the most valuable wildlife and ecosystems on earth. The park was named Karukinka by its founders, meaning "our land", the name given by the ancient settlers of Tierra del Fuego to their present home.
The park contains the largest sub-Antarctic forests and wetlands in the south of the world and is home to the largest populations of guanacos, condors and fueguino foxes in Chile. A visit to the park is therefore ideal for those who like to observe animals in the wild and explore the diverse landscapes on a trekking tour. There are hiking trails with different levels of difficulty, but they have one thing in common: pure wilderness.

For more details on visiting this park or other national parks,
please email info@travelart.com.