ATACAMA
ALMA OBSERVATORY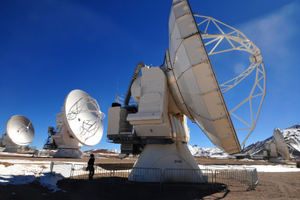 Thanks to the clarity of the sky, with more than 300 clear nights a year, and the very low light pollution, Chile, and especially the Atacama Desert, has become the world's most important location for astronomical observations.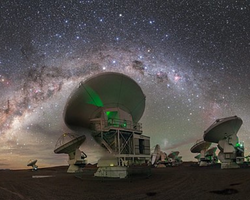 The radio telescope observatory ALMA was built as an international astronomical facility in 2004 in the Atacama Desert and houses the largest telescope in the world. ALMA also opens its doors to visitors during the day to give them an understanding of astronomy. In the operations centre (OSF), located 2900 metres above sea level, visitors can immerse themselves in the world of ALMA staff and follow the work of an astronomer in the control room.
NOTE: The facility on the Chajnantor plateau at an altitude of 5000 metres is not accessible for tourist visits.

COQUIMBO REGION / LA SERENA
VISIT THE CERRO TOLOLO OBSERVATORY
Cerro Tololo is located about 80 kilometres east of La Serena, at an altitude of 2,207 m, towards the Elqui valley.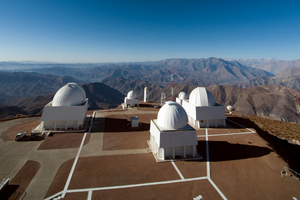 Cerro Tololo is an inter-American observatory and welcomes visitors on Saturdays at this facility in Chile to teach them about astronomical research. During the tour, you will be guided past the large telescopes and experience a traditional telescope operation, followed by a visit to the observation room of a telescope. The visit ends in the visitors' centre.

NOTE: Visits are free of charge and must be requested directly at the observatory at least 24 hours in advance.

VISIT THE LA SILLA OBSERVATORY
La Silla Observatory is located on the edge of the Atacama Desert, 600 kilometres north of Santiago de Chile, at an altitude of 2400 metres. La Silla has been an ESO flagship since the 1960s. Here, ESO operates two of the most powerful four-metre optical telescopes in the world. You can visit this historically rich observatory on Saturdays.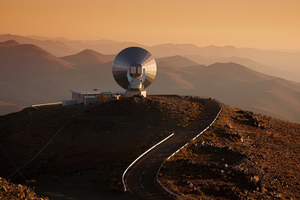 The tour starts at the visitors' centre, where you can visit an exhibition about the observatory and astronomy in general. Afterwards, you will visit important telescopes and learn more about the observatory. The tour ends with a spectacular view of the desert and the Andes.
NOTE: The tours are free of charge, but prior registration via online form is required as places are limited.


IMPORTANT INFORMATION: If the client is interested in a visit, he/she must book directly on the website of the respective observatory. Unfortunately, it is not possible to make reservations through tour operators.