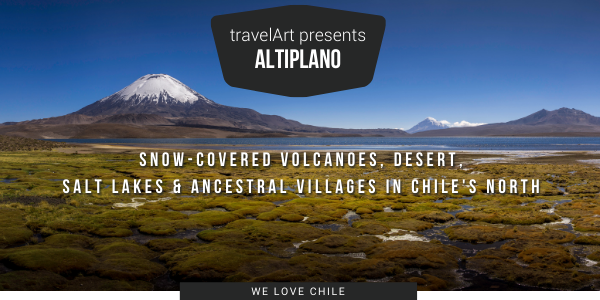 The north of Chile with its remote Altiplano lies on the borders with Peru and Bolivia in the Atacama Desert, the driest desert in the world.
In this area of snow-covered volcanoes and vast desert landscapes, you will discover unique rock formations, roaring geysers, turquoise blue lagoons and endless salt lakes whose crystals look like snow in the desert. Animal lovers can experience a diverse animal world in the national parks.

At about 4,000 metres of altitude in the Altiplano of the Andes, you can still find small, ancestral villages that have preserved their customs in the midst of an extreme landscape. The Chilean Altiplano offers numerous high mountain routes where mysticism, history and nature combine to create unique experiences. Inca and pre-Inca ruins, Aymara terrace fields, abandoned copper mines and the ghost towns of the saltpetre boom are silent witnesses to thousands of years of turbulent history in this seemingly inhospitable land.
The port city of Iquique, the colourful festival "La Tirana", the Santa Laura and Humberstone saltpetre works, declared a UNESCO World Heritage Sites, unique natural landscapes and Arica, the "City of Eternal Spring", are just some of the attractions in this region of Chile.


This short video gives you an impression of the uniqueness of the Altiplano:
If you are interested in a special programme in the Altiplano or would like to book a self-drive trip, please send an email to info@travelart.com.