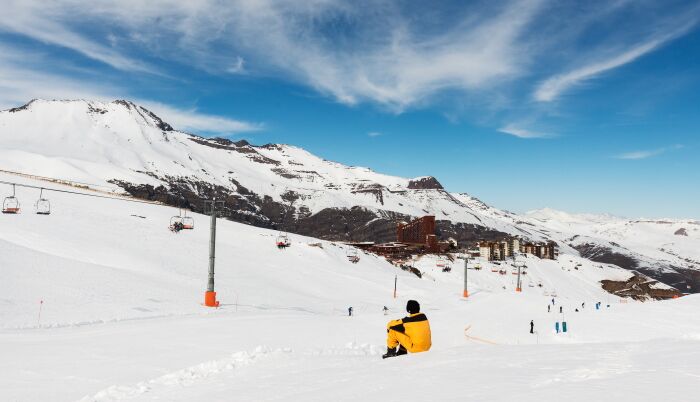 A trip to Chile during the winter months is also a wonderful opportunity to explore the many ski resorts in the country. The snow season lasts from mid-June to mid-September, depending on the weather. However, the best time to ski is usually from July to August. This is when most ski resorts offer the best snow conditions.
Head to the Andes and discover the snowy paradise of the country. Ski on the best slopes in South America, suitable for both beginners and experienced skiers.
The best equipped ski resorts in central Chile are Portillo, located at 2,850 meters above sea level on the International Highway between Santiago (Chile) and Mendoza (Argentina), and "The Three Valleys of the Andes" (Los Tres Valles de los Andes) La Parva, El Colorado and Valle Nevado, located just 30 to 40 kilometers from the capital of Chile. Portillo is the best known and oldest ski resort in South America. Valle Nevado is one of Chile's snowiest areas due to its location at 3,000 meters above sea level.
In the Araucanía region in the south of the country, about 100 km from the city of Temuco, you can ski at the Corralco ski center in the Malalcahuello-Nalcas nature reserve on the slopes of the Lonquimay volcano. It has become a popular destination for winter holidays in Chile. Here you will find hot springs, waterfalls, national parks and plenty of snow in the ski area.
The Pucón ski resort is also located in the Araucanía region and is one of the most modern ski centers in the south of the country.
In the Lake Region, about 98 km from Osorno, you will find the Antillanca ski center. It is located in the Puyehue National Park, right at the foot of the Casablanca volcano.
Learn more about the main ski resorts in Chile.
For more information about winter holidays in Chile, please send an e-mail to info@travelart.com.