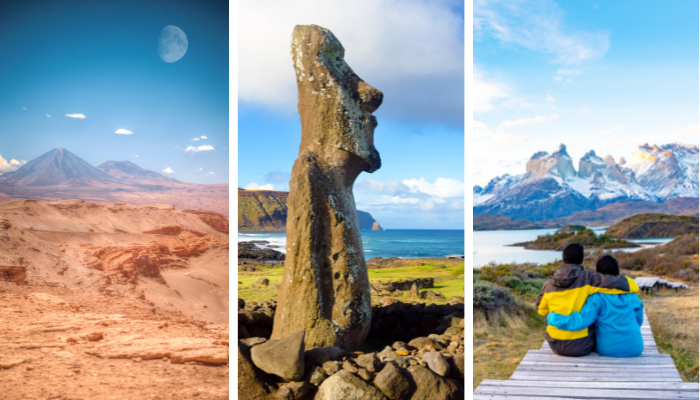 Chile stands out in the list of the 10 most beautiful nature destinations in South America published by the travel website "The Travel".
The Atacama Desert in the north of the country, the mystical Easter Island (Rapa Nui) in the middle of the Pacific and the 8th wonder of the world, Torres del Paine, put Chile on the list three times.
Atacama as the driest desert in the world ranks 8th on the list. Marvel here at extraordinary rock and sand formations, endless salt lakes, turquoise lagoons, steaming geysers and be enchanted by the starry night sky.
No other inhabited area in the world is as isolated from the mainland as the volcanic island of Rapa Nui, located in the middle of the Pacific Ocean and ranked 7th on the list. More than 1000 gigantic stone statues, the so-called Moai, are spread over the entire surface of the island.
The Torres del Paine National Park made it to 4th place on "The Travel" list. The beautiful nature conservation park is located in Patagonia and is one of the most spectacular destinations in the country. It is the ideal destination for trekking and nature lovers and impresses with breathtaking landscapes of lakes, lagoons, mountains and glaciers, as well as wildlife rich in species. The imposing granite peaks of the Torres del Paine dominate the landscape and are among the most famous motifs in Chile.