"Anyone who does not know the Chilean forest, does not know this planet. From those lands, from that mud, from that silence, I have left to walk, to sing, around the world" – Pablo Neruda (Chilean poet and Nobel Prize winner)
The 1247 kilometre Carretera Austral road passes some of Chile's most impressive landscapes. It begins in the Lake District and leads to the town of Villa O'Higgins in the Aysén region.
The northern Carretera Austral begins in Puerto Montt and ends after about 660 kilometres in the regional capital Coyhaique. It consists of roads with little traffic, surrounded by untouched nature with lakes, mountains, rivers, lush green forests and thermal springs. On the way, you will pass some of Chile's national parks. A special highlight is a hike to the hanging glacier in Queulat National Park.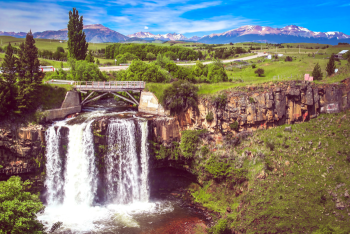 Outdoor enthusiasts will find numerous opportunities for activities all along the route, surrounded by beautiful natural panoramas and an extraordinary variety of landscapes.
Whether rafting and kayaking on the rapids of the Futaleufú River or fly fishing, horseback riding, trekking and boat trips through the fjords, there are many ways for everyone to enjoy the Chilean adventure on the Carretera Austral.
Visitors can also relax in the region's hot thermal springs, for example in Puyuhuapi.