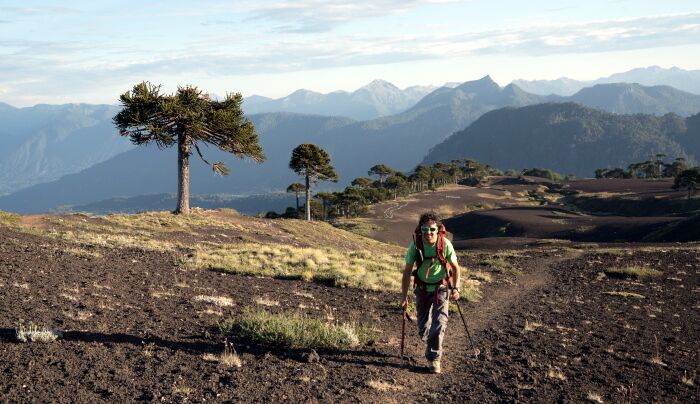 Chile is a country that is welcoming more and more international visitors to practice trekking. A long and narrow strip of land filled with mountain ranges, volcanoes, valleys, lakes, rivers and glaciers make Chile a perfect place to explore its thousands of hiking trails.
There are several trekking routes throughout the country with different levels of difficulty, aimed at experienced hikers but also families.
In the extreme south of Chile there are two routes that are not so well known and therefore not so crowded: Dientes de Navarino and Cruz de los Mares. They are aimed at more experienced hikers. Dientes de Navarino is the southernmost trekking route in the world. It is located on the island of Navarino and is named after a small mountain range that resembles a tooth. It is located south of the Beagle Channel starting in Puerto Williams. The Cruz de los Mares trekking route starts in Puerto Bulnes, south of Punta Arenas and has a high degree of difficulty, since rivers must also be crossed.
However, some trekking routes are also perfect for families. In the lake district about 96 km from Puerto Montt at Todos los Santos Lake, the Ruta de los Jesuitas route begins, which can be traveled without much difficulty and leads to the foot of the Osorno volcano and to the Petrohué waterfalls. To the South of the Conguillío National Park in Araucania, there is a very special trail, Caldera de Sollipulli, where you climb up to a caldera, a crater 4 km in diameter, the largest in South America. This caldera is covered by a 250 m deep glacier, the largest in the region.
In the north of Chile, there is a coastal hike in the Pan de Azúcar Park, best started in the early hours of the morning, that will take you to Las Lomitas, a place with a beautiful viewpoint. Near San Pedro Atacama, the El Túnel route takes you over the Cordillera de la Sal with majestic views of the Valle de la Muerte and Valle de Catarpe valleys.
For more details on trekking and adventure travel in Chile, please email info@travelart.com.